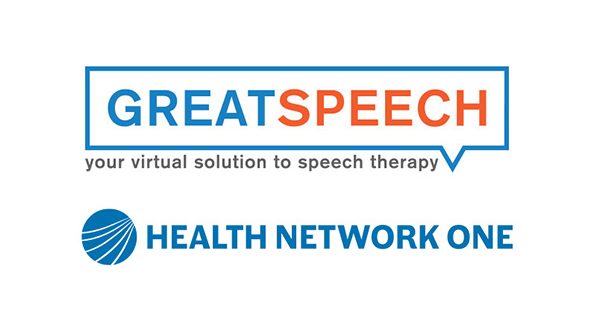 "Our unique virtual speech therapy programs complement Health Network One's result-oriented care model, and we share their commitment to preserving patient access to care and clinical quality"
"Our unique virtual speech therapy programs complement Health Network One's result-oriented care model, and we share their commitment to preserving patient access to care and clinical quality," says Avivit Ben-Aharon M.S. Ed, M.A. CCC-SLP, founder and clinical director, Great Speech. "This opportunity further extends our dedication to empowering children, adults and seniors to feel more confident and optimize their chance for success."
Great Speech's innovative approach matches licensed speech therapists with individuals who need and seek better speech communication. Great Speech's licensed speech therapists encourage better communication skills that improve the ability to understand and express thoughts, ideas and feelings.
Luis Mosquera, CEO, Health Network One, says, "Great Speech is a valuable extension of our service portfolio and helps strengthen the range and depth of services we provide to health plans nationwide through our affiliate Therapy Network. The availability and accessibility of speech therapy through Great Speech's virtual platform allows us to scale our programs and reach members wherever they are located, especially members living in rural areas or individuals who may have limitations that prevent them from seeking in-person care, such as those in the senior community."
About Great Speech Inc.
Great Speech Inc. is the pioneer and recognized leader in virtual speech therapy, and since 2014 has delivered convenient, specialized services to clients anytime, anywhere. Its innovative approach leverages technology to match credentialed therapists with children, adults and seniors who need and seek better speech communication. Proud recipient of the Women's Business Enterprise National Council (WBENC) certification. www.greatspeech.com
About Health Network One
Health Network One and its affiliates manage medical provider networks across multiple specialties, including Physical, Occupational, and Speech Therapy; Dermatology; Vision and Ophthalmology; Podiatry; Gastroenterology; and Urology. Through its value-based solutions, it partners with industry-leading health insurance companies to proudly provide care to over 5 million members. And through its robust network of over 10,000 providers, Health Network One serves as a single point of contact for its customers and provides their members convenient access to qualified medical specialists. Health Network One is NCQA-accredited and HITRUST-certified.
The Company was founded in 1999 and has 260 dedicated employees. Health Network One is based in Ft. Lauderdale, Florida with offices throughout the U.S. For more information, please visit www.healthnetworkone.com.
https://greatspeech.com/wp-content/uploads/2023/01/PR-cover-healthnetworkone2.jpg
398
600
Avivit Ben-Aharon
https://www.greatspeech.com/wp-content/uploads/2021/07/greatspeech-logo-new2-300x80.png
Avivit Ben-Aharon
2023-01-10 14:33:38
2023-02-16 17:15:19
Great Speech Announces Partnership with Health Network One: Provides Access to Virtual Speech Therapy Services for Members, Expands Payer's Specialty Network Management Solutions